Cinis - Multipurpose Material 162 PSD Template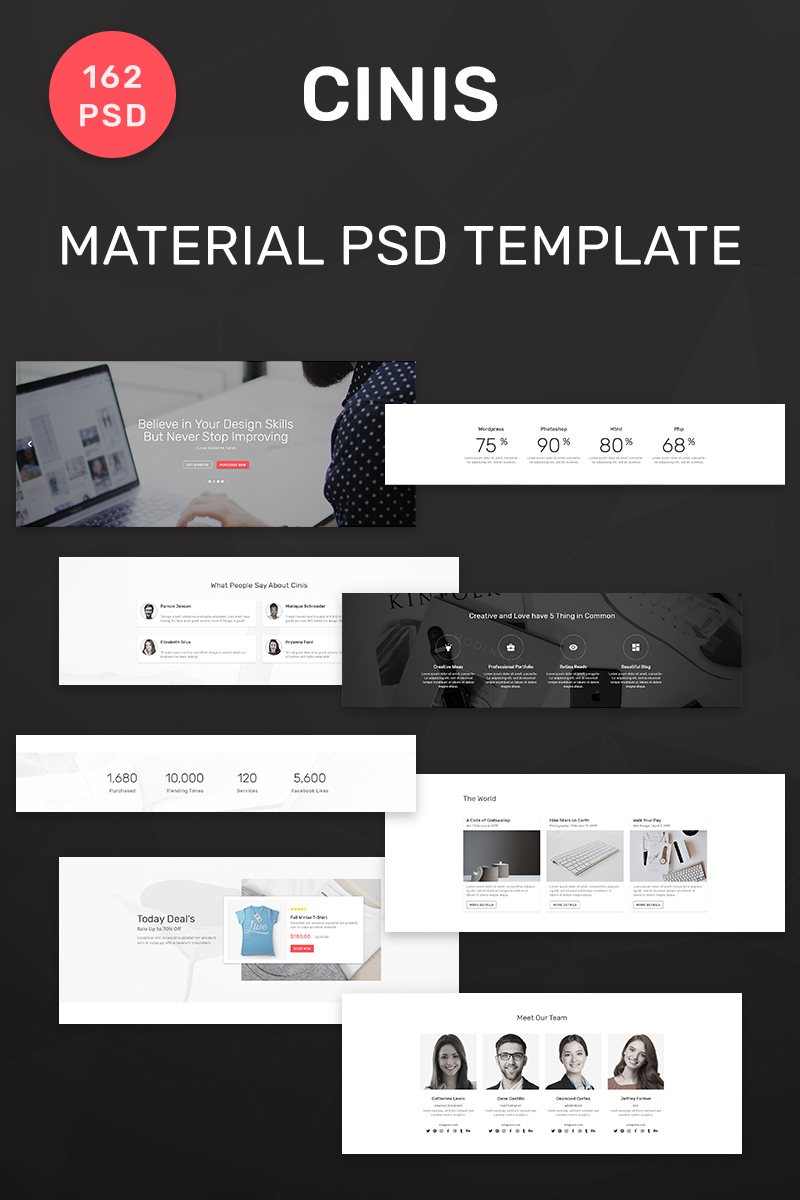 Description
"Cinis - Multipurpose Material 162 PSD Template" is specially designed for the website of Corporate, Agency, Studio, Organization, E-commerce, Business, Magazine, Community, Creative Blog, Company Profile, Personal Portfolio and more. This PSD Template includes 162 PSD files and with this template you can convert it into WordPress, Magento, Shopify, Other systems, Other Purpose... Create intuitive and beautiful websites with Material Design. Each PSD file is carefully layered and contains an overview of the hierarchy of groups and layers for easy access. You can easily replace any picture by your own one in just a few clicks.
162 PSD files included - This design is very creative and unique, and also very easy to customize and use.
If you like my template, Don't forget to rate it 5 stars and let me know your feedback for better update.
Template Features
Total 162 PSDs
26 Homepage Layout Options
32 Online Store Layouts: 7 Online Store Index Options, 10 Online Store Category Options, 9 Online Store Detail Options, 6 Cart / Checkout / Login / Coupon / Checkout Order Received Options
37 Portfolio Layout Options: 27 Portfolio Layout Options, 10 Portfolio Detail Options
27 Blog Layout Options: 24 Layout Options, 3 Blog Detail Options
19 Page Layout Options: 2 About Us Options, 2 Our Team Options, 2 Services Options, 3 Contact Options, 1 Faq, 1 Side navigation, 1 Login, 1 Sign up, 1 Coming Soon, 2 Error 404, 2 Search Results, 1 Forgot Username / Password
14 Mobile / Tablet Ready
This PSD theme is perfect for convert into WordPress, Magento, Shopify, Other systems... to make website of Corporate, Agency, Studio, Organization, E-commerce, Business, Magazine, Community, Creative Blog, Company Profile, Personal Portfolio...
Designed on 1170px Grid System
Easily customizable Photoshop files
Every page is fully layered and organized with proper names
Bootstrap 12 columns with guide line
Create intuitive and beautiful websites with Material Design
Pixel perfect
Unique and Modern Style
Retina Ready
Easy to find the files name, folder, layers, groups
Neat and Clean and Minimal Modern layout
Free Google font used
Free Font Based Icons
System icons Material
Great Support 24/7
PSD Files Included
01_HOMEPAGE
01_001_home_VERSION_001.psd
01_002_home_VERSION_002.psd
01_003_home_VERSION_003.psd
01_004_home_VERSION_004.psd
01_005_home_VERSION_005.psd
01_006_home_VERSION_006.psd
01_007_home_VERSION_007.psd
01_008_home_VERSION_008.psd
01_009_home_VERSION_009.psd
01_010_home_VERSION_010.psd
01_011_home_VERSION_011.psd
01_012_home_VERSION_012.psd
01_013_home_VERSION_013.psd
01_014_home_VERSION_014.psd
01_015_home_VERSION_015.psd
01_016_home_VERSION_016.psd
01_017_home_VERSION_017.psd
01_018_home_VERSION_018.psd
01_019_home_VERSION_019.psd
01_020_home_VERSION_020.psd
01_021_home_VERSION_021.psd
01_022_home_VERSION_022.psd
01_023_home_VERSION_023.psd
01_024_home_VERSION_024.psd
01_025_home_VERSION_025.psd
01_026_home_VERSION_026.psd


02_ONLINE_STORE
02_001_online_store_index_page_VERSION_001.psd
02_002_online_store_index_page_VERSION_002.psd
02_003_online_store_index_page_VERSION_003.psd
02_004_online_store_index_page_VERSION_004.psd
02_005_online_store_index_page_VERSION_005.psd
02_006_online_store_index_page_VERSION_006.psd
02_007_online_store_index_page_VERSION_007.psd
02_008_online_store_category_page_3_COLUMN_RIGHT_SIDEBAR.psd
02_009_online_store_category_page_3_COLUMN_LEFT_SIDEBAR.psd
02_010_online_store_category_page_2_COLUMN_RIGHT_SIDEBAR.psd
02_011_online_store_category_page_2_COLUMN_LEFT_SIDEBAR.psd
02_012_online_store_category_page_LISTVIEW_RIGHT_SIDEBAR.psd
02_013_online_store_category_page_LISTVIEW_LEFT_SIDEBAR.psd
02_014_online_store_category_page_4_COLUMN_FULLWIDTH.psd
02_015_online_store_category_page_4_COLUMN_INFINITE_SCROLLING.psd
02_016_online_store_category_page_3_COLUMN_FULLWIDTH.psd
02_017_online_store_category_page_3_COLUMN_INFINITE_SCROLLING.psd
02_018_online_store_DETAIL_DESCRIPTION.psd
02_019_online_store_DETAIL_REVIEW.psd
02_020_online_store_DETAIL_SPECIFICATION.psd
02_021_online_store_DETAIL_DESCRIPTION_LEFT_SIDEBAR.psd
02_022_online_store_DETAIL_REVIEW_LEFT_SIDEBAR.psd
02_023_online_store_DETAIL_SPECIFICATION_LEFT_SIDEBAR.psd
02_024_online_store_DETAIL_DESCRIPTION_FULLWIDTH.psd
02_025_online_store_DETAIL_REVIEW_FULLWIDTH.psd
02_026_online_store_DETAIL_SPECIFICATION_FULLWIDTH.psd
02_027_online_store_CART.psd
02_028_online_store_CHECKOUT.psd
02_029_online_store_CHECKOUT_SHOWLOGIN.psd
02_030_online_store_CHECKOUT_SHOWCOUPON.psd
02_031_online_store_CHECKOUT_SHOWLOGIN_COUPON.psd
02_032_online_store_CHECKOUT_ORDER_RECEIVED.psd


03_PORTFOLIO
03_001_portfolio_VERSION_001_3_COLUMN.psd
03_002_portfolio_VERSION_002_2_COLUMN.psd
03_003_portfolio_VERSION_003_4_COLUMN.psd
03_004_portfolio_VERSION_004_5_COLUMN.psd
03_005_portfolio_VERSION_005_3_COLUMN_FULLSCREEN.psd
03_006_portfolio_VERSION_006_2_COLUMN_FULLSCREEN.psd
03_007_portfolio_VERSION_007_4_COLUMN_FULLSCREEN.psd
03_008_portfolio_VERSION_008_5_COLUMN_FULLSCREEN.psd
03_009_portfolio_VERSION_009_SPECIAL_FULLSCREEN.psd
03_010_portfolio_VERSION_010_3_COLUMN_MASONRY.psd
03_011_portfolio_VERSION_011_2_COLUMN_MASONRY.psd
03_012_portfolio_VERSION_012_4_COLUMN_MASONRY.psd
03_013_portfolio_VERSION_013_5_COLUMN_MASONRY.psd
03_014_portfolio_VERSION_014_3_COLUMN_MASONRY_FULLSCREEN.psd
03_015_portfolio_VERSION_015_4_COLUMN_MASONRY_FULLSCREEN.psd
03_016_portfolio_VERSION_016_5_COLUMN_MASONRY_FULLSCREEN.psd
03_017_portfolio_VERSION_017_2_COLUMN_MASONRY_FULLSCREEN.psd
03_018_portfolio_VERSION_018_3_COLUMN_TEXT.psd
03_019_portfolio_VERSION_019_4_COLUMN_TEXT.psd
03_020_portfolio_VERSION_020_2_COLUMN_TEXT.psd
03_021_portfolio_VERSION_021_3_COLUMN_TEXT_FULLSCREEN.psd
03_022_portfolio_VERSION_022_4_COLUMN_TEXT_FULLSCREEN.psd
03_023_portfolio_VERSION_023_2_COLUMN_TEXT_FULLSCREEN.psd
03_024_portfolio_VERSION_024_5_COLUMN_TEXT_FULLSCREEN.psd
03_025_portfolio_VERSION_025_3_COLUMN_TEXT_MASONRY.psd
03_026_portfolio_VERSION_026_4_COLUMN_TEXT_MASONRY.psd
03_027_portfolio_VERSION_027_2_COLUMN_TEXT_MASONRY.psd
03_028_portfolio_VERSION_028_DETAILS_OPTION_01.psd
03_029_portfolio_VERSION_029_DETAILS_OPTION_02.psd
03_030_portfolio_VERSION_030_DETAILS_OPTION_03.psd
03_031_portfolio_VERSION_031_DETAILS_OPTION_04.psd
03_032_portfolio_VERSION_032_DETAILS_OPTION_05.psd
03_033_portfolio_VERSION_033_DETAILS_OPTION_06.psd
03_034_portfolio_VERSION_034_DETAILS_OPTION_07.psd
03_035_portfolio_VERSION_035_DETAILS_OPTION_08.psd
03_036_portfolio_VERSION_036_DETAILS_OPTION_09.psd
03_037_portfolio_VERSION_037_DETAILS_OPTION_10.psd


04_BLOG
04_001_blog_VERSION_001_CLASSIC_RIGHT_SIDEBAR.psd
04_002_blog_VERSION_002_2_COLUMN_RIGHT_SIDEBAR.psd
04_003_blog_VERSION_003_3_COLUMN_RIGHT_SIDEBAR.psd
04_004_blog_VERSION_004_CLASSIC_LEFT_SIDEBAR.psd
04_005_blog_VERSION_005_2_COLUMN_LEFT_SIDEBAR.psd
04_006_blog_VERSION_006_3_COLUMN_LEFT_SIDEBAR.psd
04_007_blog_VERSION_007_CLASSIC.psd
04_008_blog_VERSION_008_2_COLUMN.psd
04_009_blog_VERSION_009_3_COLUMN.psd
04_010_blog_VERSION_010_4_COLUMN.psd
04_011_blog_VERSION_011_3_COLUMN_MASONRY.psd
04_012_blog_VERSION_012_2_COLUMN_MASONRY.psd
04_013_blog_VERSION_013_4_COLUMN_MASONRY.psd
04_014_blog_VERSION_014_2_COLUMN_RIGHT_SIDEBAR_OPTION_02.psd
04_015_blog_VERSION_015_2_COLUMN_LEFT_SIDEBAR_OPTION_02.psd
04_016_blog_VERSION_016_3_COLUMN_RIGHT_SIDEBAR_OPTION_02.psd
04_017_blog_VERSION_017_3_COLUMN_LEFT_SIDEBAR_OPTION_02.psd
04_018_blog_VERSION_018_CLASSIC_RIGHT_SIDEBAR_OPTION_02.psd
04_019_blog_VERSION_019_CLASSIC_LEFT_SIDEBAR_OPTION_02.psd
04_020_blog_VERSION_020_5_COLUMN_MASONRY_FULLSCREEN.psd
04_021_blog_VERSION_021_DETAILS_RIGHT_SIDEBAR.psd
04_022_blog_VERSION_022_DETAILS_LEFT_SIDEBAR.psd
04_023_blog_VERSION_023_DETAILS_FULLWIDTH.psd
04_024_blog_VERSION_024_3_COLUMN_MASONRY_RIGHT_SIDEBAR.psd
04_025_blog_VERSION_025_3_COLUMN_MASONRY_LEFT_SIDEBAR.psd
04_026_blog_VERSION_026_2_COLUMN_MASONRY_RIGHT_SIDEBAR.psd
04_027_blog_VERSION_027_2_COLUMN_MASONRY_LEFT_SIDEBAR.psd


05_PAGES
05_001_pages_about_us_VERSION_001.psd
05_002_pages_about_us_VERSION_002.psd
05_003_pages_services_VERSION_001.psd
05_004_pages_services_VERSION_002.psd
05_005_pages_contact_us_VERSION_001.psd
05_006_pages_contact_us_VERSION_002.psd
05_007_pages_contact_us_VERSION_003.psd
05_008_pages_search_VERSION_001.psd
05_009_pages_search_VERSION_002.psd
05_010_pages_404_VERSION_001.psd
05_011_pages_404_VERSION_002.psd
05_012_pages_coming_soon_VERSION_001.psd
05_013_pages_team_VERSION_001.psd
05_014_pages_team_details_VERSION_001.psd
05_015_pages_faqs_VERSION_001.psd
05_016_pages_side_navigation_VERSION_001.psd
05_017_pages_signin_VERSION_001.psd
05_018_pages_signup_VERSION_001.psd
05_019_pages_forgot_password_VERSION_001.psd


06_HEADERS_FOOTERS
06_001_footer_VERSION_001.psd
06_002_headers_VERSION_001.psd
06_003_dropdown_search_VERSION_001.psd
06_004_ajax_cart_VERSION_001.psd
06_005_popup_newsletter_VERSION_001.psd
06_006_menu_headers_VERSION_001.psd
06_007_menu_headers_VERSION_002.psd


07_MOBILE_TABLET
07_001_mobile_001.psd
07_002_tablet_001.psd
07_003_mobile_menu_VERSION_001.psd
07_004_mobile_menu_VERSION_002.psd
07_005_mobile_menu_VERSION_003.psd
07_006_mobile_menu_VERSION_004.psd
07_007_mobile_menu_VERSION_005.psd
07_008_mobile_menu_VERSION_006.psd
07_009_tablet_menu_VERSION_001.psd
07_010_tablet_menu_VERSION_002.psd
07_011_tablet_menu_VERSION_003.psd
07_012_tablet_menu_VERSION_004.psd
07_013_tablet_menu_VERSION_005.psd
07_014_tablet_menu_VERSION_006.psd


Free 24/7
Support Team

Ready Solutions
For Business

Premium
Quality

1 200 000+

Satisfied Customers
Buy
Color: black, white, grey,

Features: Premium, Responsive, Bootstrap, Retina Ready, Mobile Layout Included, Multipurpose,

Template Software Required: Adobe Photoshop CC+, Adobe Photoshop CS2,

tags: agency, bootstrap, business, clean, corporate, creative, fashion, material, minimal, portfolio, responsive, simple, template, theme, web, wordpress, website, blog, psd, ecommerce,

Topic: Electronics Templates, Design & Photography, Business & Services, Computers & Internet, Fashion & Beauty, Graphics,


Featured E-Commerce Web Templates