Pulmonary Rehab Process Vector Infographic Template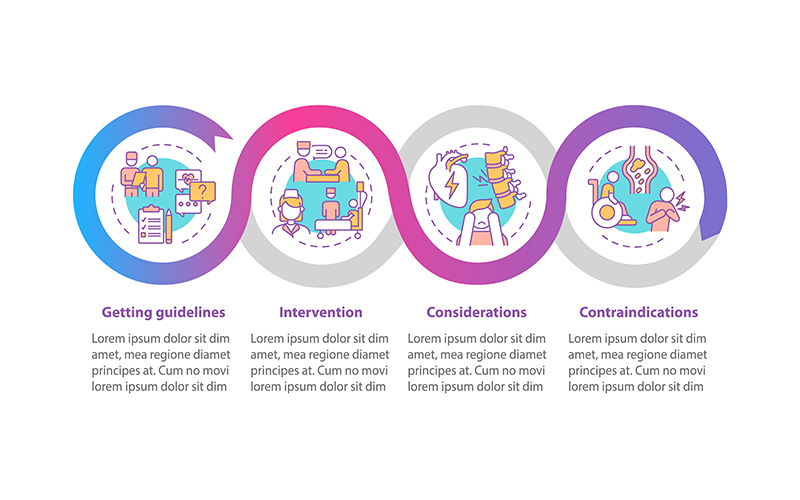 Pulmonary rehab process vector infographic template.
Presentation outline design elements. Data visualization with 4 steps. Process timeline info chart. Workflow layout with line icons.
File formats include EPS, SVG, PNG, JPEG, AI.
Among features of provided files are compatibility with Adobe Illustrator and ability to custom edit vector formats. High resolution of images also makes designs fitted for printing.
Please enjoy!
Demo
Free 24/7
Support Team

Ready Solutions
For Business

Premium
Quality

1 200 000+

Satisfied Customers
Buy
Live Demo #2:
(click image below for quick Demo or Info)
LIVE DEMO #2: If available, click the image above or the
Demo or Info
link above for quick Demo or Info.
Guarantee:
100% SATISFACTION GUARANTEE. Learn how www.templatehelp.com backs the product and ensures that our customers are protected.
Read the
Disclaimer of Warranty
,
Terms of Use
and
Refund Policy
.
Contact Us:
After contacting the
24/7 Live Chat Support
, please feel free to e-mail us at templates@BrobstSystems.com if you have further comments and feedback as well as any experience with this BrobstSystems.com site that you would like to share with us.
Keywords:
business template ux banner design graphic post brochure web flat illustration covid storytelling infographic vector gradient icon therapy concept doctor medicine healthcare presentation circle plan diagram flow chart idea graph report loop round respiratory pulmonary linear process timeline 4 intervention step scheme flowchart rehabilitation sequence rehab instructions infochart contraindication consideration
Color: white, grey,

Template Software Required: Sketch, Figma,

tags: banner, brochure, business, chart, circle, concept, consideration, design, diagram, doctor, flat, flow, flowchart, gradient, graph, graphic, healthcare, icon, idea, illustration, linear, loop, medicine, plan, presentation, process, pulmonary, rehab, rehabilitation, report, respiratory, round, scheme, sequence, step, storytelling, template, therapy, vector, web, infographic, 4, timeline, ux, infochart, intervention, instructions, contraindication, post covid,


Featured E-Commerce Web Templates